Past Coordinators
Manishita Dass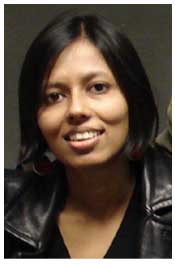 Manishita Dass is an Assistant Professor at the University of Michigan (Ann Arbor, USA), where she holds a joint appointment in the departments of Screen Arts & Cultures and Asian Languages & Cultures, and teaches courses in South Asian cinema, world cinema, film history/theory, and postcolonial theory. Her research interests include early cinema in India and its intersection with other forms of popular culture; the impact of left radicalism on the film cultures of Bombay and Calcutta in the 1940s-1960s; the question of realism in Indian cinema; the cinematic city; and the visual and literary worlds of Bengali modernity. She is currently working on a book manuscript, titled Outside the Lettered City: Cinema, Nation, and Modernity in India, which traces how the space of cinema was imagined in films and in public discourse, in relation to the trope of modernity and the emerging category of the nation, in early-to-mid-twentieth century India.
Suboor Bakht (Manager, Research and Archiving)

With a background in Biochemistry and Post Graduation in Marekting Management, Suboor has a 10 years experience in the corporate world with specialisation in Quality Assurance, Training and Intellectual Property Rights. He has worked with companies like GE, Laing O'Rourke and the Times of India. Despite his hectic schedule Suboor continued to learn and spend time on his interest areas: arts, antiques and interior decoration. He collects material of historical importance and participates in activities pertaining to preservation of heritage, art and culture. He is a member of the Cluster of Excellence: Asia and Europe in Global Context of the Heidelberg University for a project on Muslim popular iconography.